A Mechanic You Can Trust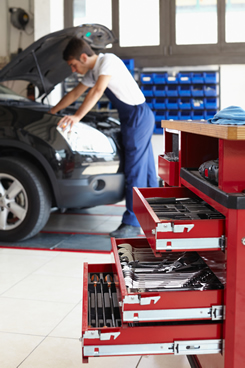 Choosing a new mechanic can be a daunting task, which is why it is so refreshing when you find one that you can trust. You should feel comfortable when leaving your car with your mechanic and you shouldn't drive away with that surprised feeling when you get the bill. Richmond Auto Service Centre strives to make your experience an easy and enjoyable one.
The staff at Richmond Auto Service Centre take the time to listen to your servicing requirements, and explain in simple, easy to understand terms what needs to be done to keep your vehicle safe, reliable and running as fuel efficiently as possible.
Richmond Auto Service Centre can carry out all handbook servicing to manufacturers' specification, and still maintain your new car warranty.
Richmond Auto Service Centre is equipped with the latest electronic diagnostic scan tool equipment, enabling accurate service and repair of late model vehicles.
We are current members of the industry bodies, the VACC, IAME and VASA, and our technicians are licenced by the Australian Refrigeration Council Ltd (ARC) to regas and repair car air conditioning systems.
An Honest And Friendly Approach
We pride ourselves on our honest and friendly approach to caring for our customers and their vehicles, and invite you to experience for yourself a new level of personalised service.
For an accurate and honest mechanical appraisal of your vehicle, and a fully itemized and costed quotation, call Richmond Auto Service Centre on 9429 0777 and make an appointment today.